Existe-t-il une solution simple pour corriger votre "YIPS" au putting ?
Updated: Mar 10, 2019
SAM Academy YipsCure. Source : https://www.scienceandmotion.com/training/ . Pour plus d'informations sur le Sam Putt Lab, consultez notre page https://www.addongolf.com/samputtlab ou contactez nous contact@addongolf.com.


Le Yips
Le "Yips" est l'incapacité à terminer un coup normalement au putting. En règle générale, le "yips" est attribué dès l'apparition de mouvements saccadés, de spasmes ou d'arrêt involontaires du mouvement. Entre 20% et 30% des golfeurs sont touchés par des Yips. Le Yips est décrit comme un problème organique (dystonie), un problème psychologique (étouffement) ou un continuum entre les deux (études de la clinique Mayo). Nos recherches révèlent toutefois que le Yips est la conséquence d'une perception de soi exagérée et d'un contrôle conscient, et qu'il est spécifique à une tâche. En modifiant des aspects spécifiques du contexte, vous pouvez activer ou désactiver vos Yips.
Le Yips avec les deux mains:
Le Yips seulement avec la main droite:
Diagnostic du Yips :
Comme le Yips est principalement une contraction du poignet de la main droite avant ou pendant l'impact, les données SAM PuttLab montrent que les problèmes du Yips concernent principalement les données de rotation de la face, en particulier la courbe de la vitesse de rotation à l'impact. Les oscillations trouvées dans le graphique du taux de rotation indiquent des saccades. Comme le problème émerge normalement de la main droite, il est judicieux de tester votre mouvement à des distance de 2 ou 3 mètres avec la main droite uniquement, puis de vérifier le rapport de rotation du de la tête de club.
Le Yips après l'entraînement:
Cure Yips
Science & Motion (SAM) Academy a développé une approche du traitement de la crampe du golfeur si redouté. Nos études prouvent que le Yips est principalement constitué de problèmes complexes liée à une stratégie motrice. Là où les programmes d'évitement ou d'entraînement mental échouent de manière permanente, le SAM Academy YipsCure est le premier traitement qui va au cœur du problème. Le problème du mouvement est d'abord diagnostiqué avec précision avec le SAM PuttLab. Ensuite, un programme de formation individuel est conçu pour isoler systématiquement les problèmes puis déprogrammer votre mouvement étape par étape. Après la formation, le mouvement d'origine est retrouvées.
Le grip "Griffe" pour rentrer plus de putt :
Conseils :
Certains ajustements très simples peuvent vous aider à mieux gérer vos problèmes de Yips :
1/ Effacez votre main droite du mouvement :
Comme Yips est le plus souvent un problème de la main droite, essayez de retirer la main droite du mouvement. Cela peut être fait en utilisant le grip de la "griffe". Fondamentalement, la main gauche est alors responsable du déplacement du putter. Il est important que la main droite repose sur grip, mais ne saisisse pas vraiment le putter. Essayez de réduire autant que possible la pression exercée sur la main droite. .
2/ Jouer pour gaucher
Étonnamment, souvent, seuls les putts en direction de la gauche sont affectés par Yips. Utiliser simplement un putter de gaucher et jouer des putts vers la droite peut vous aider à frapper des putts normaux. Vérifier si les mains tremblent encore. Si vous ne constater plus de tremblement, procurez-vous un putter pour gaucher. Vous verrez à quel point les putts seront meilleurs à nouveau.
English :
ROOT OUT THE TROUBLE
Yips General
Yips is the inability to complete a normal putting stroke. Typically Yips is assigned to the occurrence of involuntary movement jerks, spasms or freezing. Between 20% and 30% of golfers are affected by Yips. Yips has been described as an organic problem (dystonia), a psychological problem (choking), or a continuum between both (studies of the Mayo Clinic). Our research however reveals that Yips is the consequence of exaggerated self-perception and conscious control, and is very much task specific. By changing specific aspects of the putting context Yips can be switched on and off.


Yips if putting with both hands: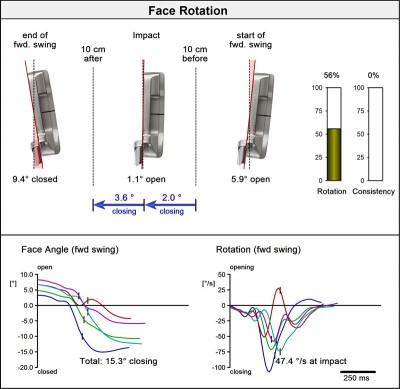 Yips if putting only with right hand: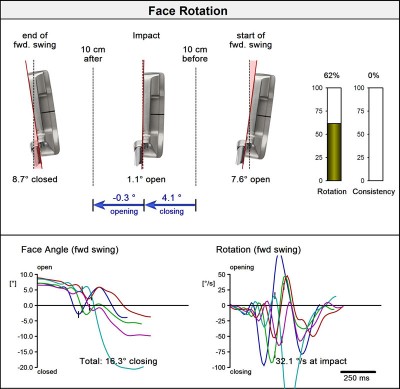 Yips Diagnosis
As Yips mainly consists in a twitching of the wrist of the right hand before or directly at impact, the SAM PuttLab data shows Yips problems mostly in the face rotation data, in particular in the rate of rotation curve at impact. Oscillations found in the rate of rotation graph indicate the jerks. As the problem normally emerges from the right hand, it makes sense to also test playing 2-3 m putts with the right hand only and then inspecting the face rotation report.


Yips after training: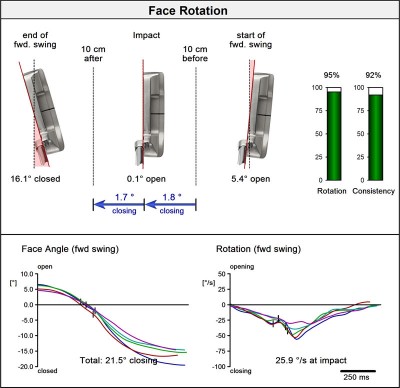 Yips Cure
Science&Motion (SAM) Academy has developed a revolutionary approach to the treatment of the dreaded golfer's cramp. Our studies prove that Yips is mainly made up of complex motor strategy problems. Where avoidance strategies or mental training programs permanently fail, the SAM Academy YipsCure is the first treatment getting right to the heart of the problem. First the movement problem is precisely diagnosed with the SAM PuttLab. Then an individual training program is tailored to systematically isolate the problems and to "unlearn" them step by step. After the training the original movement competences are widely regained. If you are interested in booking for a YipsCure training please contact us through the contact sheet.
If you want to book in for a YipsCure session with Dr. Christian Marquardt, please send him an Email to  christian.marquardt@scienceandmotion.de


Claw grip for putting: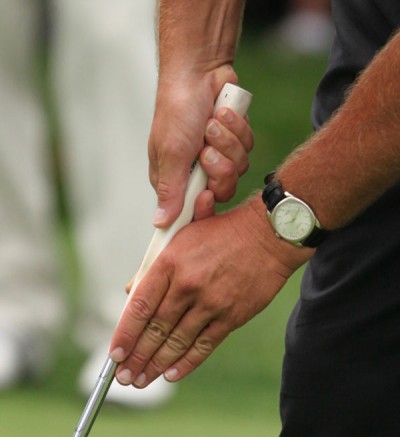 Tips
Some very easy adjustments can help you to better handle your Yips problems:
Take the right hand out of the game
As Yips is most often a problem of the right hand only, try to take the right hand out of the game. This can be done by using a claw grip. Basically the left hand is then responsible to move the putter. It is important that the right hand is only lying on the grip, but not really gripping the putter. Try to reduce the grip pressure in the right hand as much as possible. You can also try to bring the right hand to the grip just before you start the backstroke.
Play left-handed
Surprisingly often only putts to the left are affected by Yips. Simply using a left-handed putter and playing putts to the right can help you to hit normal putts. You can first try to play putts with the back side of your normal putter and check if the hands are still twitching. If good, get yourself a left handed-putter. You will wonder how good the putts can feel again.